Bosch EPS 625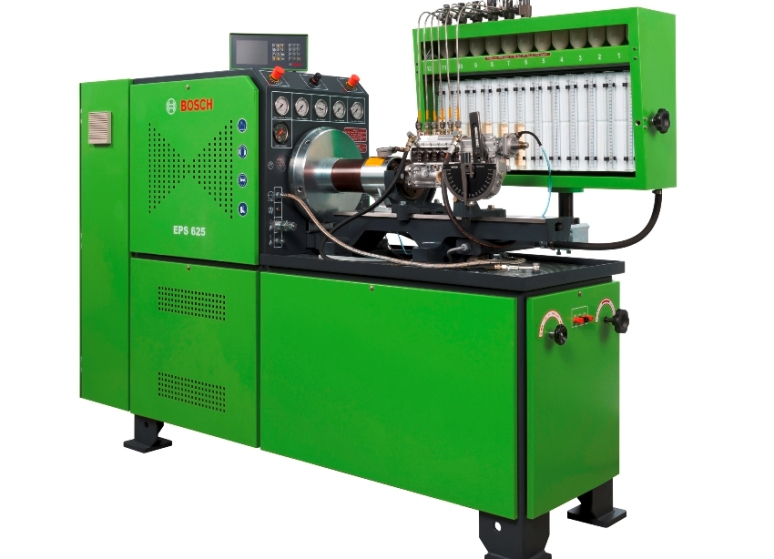 The EPS 625 from Bosch offers adequate drive power, high torque with even-running characteristics and exact speed control for accurate testing of inline and distributor type pumps.
By using the EPS 625 universal component test bench, powerful conventional inline and distribution injection pumps, both from Bosch as well as other manufacturers, can be tested. As a result, the specifications from the engine and vehicle manufacturers can be maintained. Because of its robust and easy-to-use technology, the EPS 625 is a cost effective and long-lasting investment for the workshop.
Fine measuring accuracy due to.
Robust 18.5 kW direct drive unit, 4 pole motor Digital speed measurement Digital stroke counter and control Digital temperature measurement.
Excellent even running characteristics due to large flywheel mass.
High torque at lower speed ranges provided by variable frequency converter drive (special drive).
Maintenance friendly modular design.
12/24V power supply output.
Test Oil pump is driven by dedicated 0.55 kW AC motor.
Overload relay for motor protection with individual breaker switches.
Torsionally stiff, anti-backlash coupling.
Removable cover panels for easy servicing.
Float switch in tank monitors calibration oil level.
Important sub-assemblies/ controls
Measuring glass tray (260 cm3 and 44 cm3) with height adjustment control.
Pressure (phasing for both calibration and phasing) control valve.
Calibration oil tank, 50 litre capacity Test
oil tandem pump unit and 0.55 kW AC motor (driver)
Electrical system control box 18.5 kW AC motor, 4 pole
Human machine interface (HMI) control unit with stroke, temperature and speed display
Control on/off and emergency stop buttons
ISO anti-backlash coupling Main switch
Variable frequency converter
Dimension L x W x H : 2320 x 950 x 1730 MM
Weight approx : 1000 kg
Drive: Power : 18.5 kW Motor efficiency in full load : 92.4 % Torque ( 0 to 1500 rpm) : 115 Nm Torque at 4000 rpm : 40 Nm Speed range : 50-4000 rpm Speed range accuracy (>100 rpm) : +/-2 rpm Direction of rotation: left/right : CW/ACW CW/ACW Positioning accuracy (flywheel grauation) : 1<)0 Moment of inertia of flywheel2 : 0.75 kg/mm Axis height( clamping bed height to injection pump centre) : 125 mm
Coupling Assembly: Zero-backlash multi-plate clutch : 2,600 Nm/0
Power Supply: 12 V/ 24 V for start/ stop solenoids : 6 A
Delivery Pump capacity: Test oil, low pressure : 0 to 400 0 kPa 16.5 I/min Test oil, high pressure : 0 to 4 MPa 0 to 1.8 I/min Lube oil pressure (optional item) : 0 to 600 kPa 0 to 5.8 I/min
Pressure gauges Low pressure (inlet) - external connection : 0 to 0.1 MPa Lowe pressure (inlet) - internal connection : 0 to 0.6 MPa High pressure (inlet) - internal connection : 0 to 6 MPa High pressure (housing) - external connection : 0 to 1.6 MPa Air pressure gauge (LDA pump calibration) : -0.1 to +0.25 MPa Lube oil pressure (optional item) : 0 to 1 MPa
Heating/cooling Test oil heating: electric (Approx) : 2.5 kW Time taken to heat from 25 deg to 40 deg C, approx : 20 Maximum Test oil cooling: water connection nipple : 1/2" Coolant water consumption (approx) : 15 I/min Coolant water temperature (max.) : 17 0C
Filling Quantities Test oil tank, approx : 50 I Top Tray capacity for contaminated oil, approx : 10 I Lube oil tank, approx : 12 I
MGT device Measuring glass, low quantity : 44 cc Measuring glass, high quantity : 260 cc Quantity of measuring glasses, each : 12
HMI (Human Machine Interface) Colour LCD display size : 5.7 in/. Total number of soft touch keys : 24 Quantity of measuring glasses, each : +/-45
Noise Noise with main motor off, max : 70 db-A
Main colour Green : 6018 RAL
EPS 625 Scope of Delivery
| Description | Part No |
| --- | --- |
| Measuring glass 44cc | F 002 81N S90 |
| Measuring glass 260cc | F 002 81N S91 |
| Tommy bar | F 002 81N Y02 |
| Tapper punch | F 002 81N Y01 |
| Hose for calibrating oil return | F 002 81N F07 |
| Hose for calibrating oil supply | F 002 81N F94 |
| Electric cable for connecting VE pump solenoid | M824.216.488-P729 |
| Zero-backlash coupling | F 002 81N W00 |
| Guard for coupling | F 002 81N K00 |
| Measuring glass illumination | M824.221.481-P002 |
| | |