Bosch CR Injection Pump Test Bench EPS 708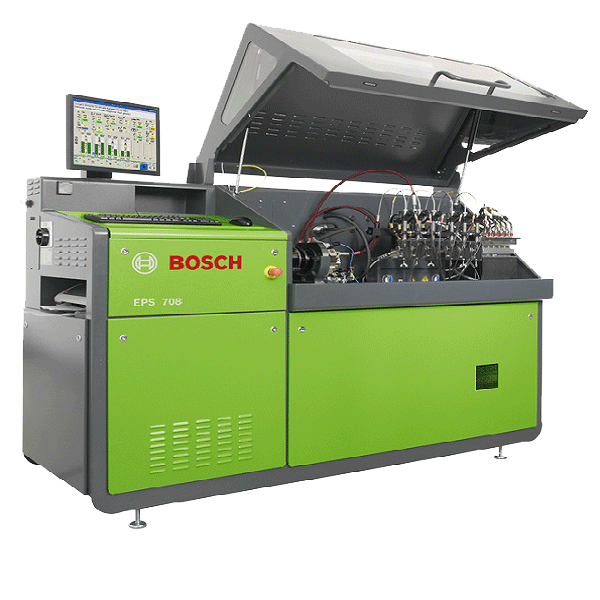 EPS 708: Efficient and service-oriented The injection pressures on which modern common-rail diesel engines run have risen constantly over the last few years. 2,000 bar is nowadays already normal. The new diesel test bench EPS 708 from Bosch – specially designed for common rail pumps and injectors – therefore permits testing with up to 2,200 bar. Its newly developed rail is designed for pressures up to 2,500 bar, which means that the test bench is prepared for future developments in diesel technology.
Future-proof:
Testing up to 2,200 bar.
Rail designed for up to 2,500 bar (can be extended with further add-on kits in the future).
Integrated cooling system reduces water consumption in the workshop.
Electronic monitoring and display of service intervals.
Self diagnosis system indicates necessary filter change.
State-of-the-art and precise:
Electronic Quantity Measurement.
Electronic supply pressure control.
Simple pump assembly without clutch cover.

Safe:

Immediate engine shutdown if hood is opened
Hood protects against loose parts
Technical Specifications
| Parameter | Value |
| --- | --- |
| Power | 8 KW |
| Maximum torque (motor) | 61 Nm |
| Speed range | 0-4,000 rpm |
| Three-phase current– nominal voltage 400V/ 230V | 380-400/200-240 VAC |
| Input frequency | 50/60 Hz |
| Test pressure | 18-220 MPa |
| Temperature control range | 30-50, ±0.5 ℃ |
| Dimension L x H x W | 2,070x1,850x790 mm |
| Weight with cooler without/with operating supplies approx | 850/920 kg |
| Model | EPS 708 |
| | |