SONEL Thermal Imaging Camera with Fever Detection KT-560M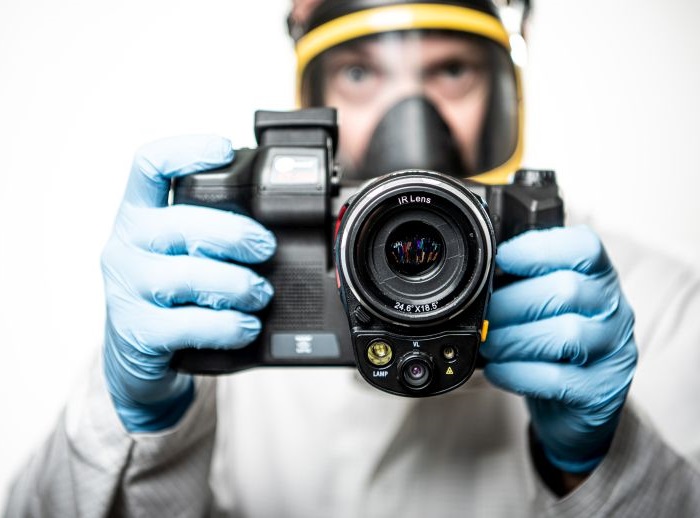 Alert! Fever detected! Examine through image Sonel KT-560M is dedicated for body temperature measurements. If the temperature exceeds a set threshold (i.e. fever), setting off an alarm is possible. This way, one can detect risk groups during extensive examinations. The imager can also be used to detect various diseases in individual patients. .
The camera allows to identify people with fever in the crowd (e.g. caused by viral or bacterial infection). Ideally suited for sanitary-epidemiological monitoring of groups or individual people. In addition, it can be widely used in medicine (neurosurgery, neurology, vascular surgery, dentistry, otolaryngology, pulmonology, endocrinology and mammology) and in veterinary medicine.
fever
malignant tumours of breast, skin, lymph nodes, facial skeleton and their relapses,
inflammation and adenocarcinoma (ovary and fallopian tube)
ear, throat and nose inflammation,
inflammatory diseases of the joints and spine,
diseases of the vessels and nerves of the extremities,
thyroid dysfunction and disease,
inflammatory and functional diseases of the kidneys, as well as the digestive system and liver,
inflammation and diseases in animals.
measuring range 20°C...60°C, accuracy ≤ ±0.4°C
5 Mpix visual camera
imaging modes: IR, visual, PIP (picture in picture), MIF (combined visual and IR)
saving IR images and videos to SD card or directly to a PC
5'' large rotating touchscreen
built-in report module for complete thermal analysis
add voice and text notes, draw graphical symbols on images
adjustable brightness of the display, facilitating work at high ambient light and dark places
GPS, digital compass, LED flashlight and laser pointer
removable Li-Ion battery with 4-hour working time
interfaces: microUSB 2.0, Wi-Fi, Gigabit Ethernet, MiniHDMI, SD slot

SONEL Thermal imaging camera with alarm KT-120M

Sonel KT-120M is a special camera. Economical, practical and handy, it is a powerful tool in preventing or limiting epidemics.

The user can measure the temperature with 0.5°C accuracy. An alarm will sound if the threshold value is exceeded. All this in order to quickly and efficiently detect people with fever - e.g. infected with a virus giving such symptoms.

Sonel KT-120M is used wherever many people need to be tested for body temperature. Particularly useful in:

factories
schools
shopping malls
office buildings

measuring range 20°C...50°C
accuracy up to ±0.5°C
fast temperature measurement
automatic signalling of fever detection
saving IR images to SD card or directly to a PC
built-in Li-Ion battery with 8-hour working time
interfaces: microUSB 2.0 type C, SD slot
can be set up on a tripod