Meco LCR Meter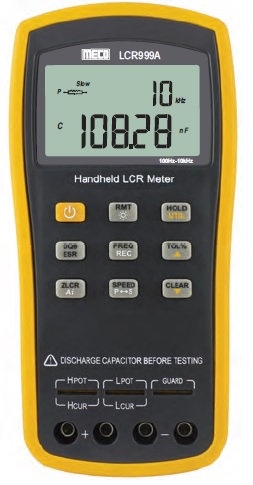 Basic measurement accuracy 0.1% & speed upto 10 meas / sec.
Large LCD display with bright white backlight.
Ultra low power consumption, battery powered for 24 hours of continuous use..
Automatic identification function (Ai).
Percentage display & 4 tolerance comparator : 1%, 5%, 10% & 20%.
9V battery & External power supply.
Automatic correction function with datahold, max. / min. / average recording.
Utility function configuration & current setup recovery after power off.
Standard Mini-USB interface, SCPI compatible.
Auto power Off.
Constant output impedance : 100 ohm.
Application
*
Field maintenance test & external carrying test.
Fixation point on production line or mobile checkout.
Warehouse & real time spot or batch inspection.
Flow inspect and in field measurements.